The rising number of surgical procedures and people's awareness of the dangers of adhesions are driving considerable growth in the global adhesion barrier market. The use of adhesion barriers has been shown to reduce patient discomfort, increase surgical success rates, and decrease the likelihood of adhesion formation. The global market for adhesion barriers has a bright future, as evidenced by this examination of the industry's leading trends, drivers, challenges, and opportunities.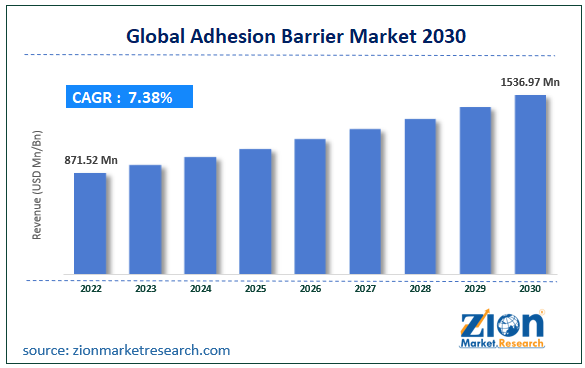 Adhesions are more likely to form when the frequency of surgical procedures, particularly those involving the abdomen, gynaecology, and the musculoskeletal system, increases. The need for efficient adhesion barriers that can lessen side effects is growing as a result. Healthcare providers and patients are becoming increasingly aware of the advantages of adhesion barriers, which is fueling demand.
Adhesion barriers' efficiency and biocompatibility have been greatly improved thanks to technological developments. Coverage, simplicity of application, and safety have all been enhanced with the advent of novel formulations such films, gels, and sprays. As a result of these developments, adhesion barriers are becoming increasingly popular in the surgical arena.
The market prognosis is optimistic, but there are still obstacles to overcome. Adhesion barriers, especially those with more complex formulas, can be quite pricey, which could restrict their use in some medical facilities. Furthermore, new entrants to the medical device sector have a high barrier to entry due to the complexity of the standards and approvals that must be met.
Growth possibilities can be seen in emerging economies due to the rising availability of healthcare facilities and surgical procedures. New opportunities for market expansion and differentiation can be found by investing in R&D to create cutting-edge adhesion barriers with improved efficacy and fewer adverse effects. Given the important necessity to prevent adhesions in treatments involving smaller incisions and lower tissue stress, the increasing acceptance of minimally invasive surgical techniques gives another attractive opportunity for adhesion barriers.
Global Adhesion Barrier Market: Competitive Players
Some of the key market players operating in the adhesion barrier market include:
Johnson & Johnson,
Atrium Medical Corporation
Medtronic Plc.
Integra Lifesciences Corporation
FzioMed Inc.
Sanofi Group
Getinge AB
Baxter International Inc.
C. R. Bard, Inc.
Anika Therapeutics Inc.
MAST Biosurgery AG.
Global Adhesion Barrier Market: Segment Analysis
By Product
Synthetic Adhesion Barriers

Hyaluronic acid
Regenerated cellulose
Polyethylene glycol
Others

Natural Adhesion Barriers

Collagen & Protein
Fibrin
By Formulation
By Application
Gynecological Surgeries
Abdominal General Surgeries
Orthopedic Surgeries
Cardiovascular Surgeries
Neurological Surgeries
Urological Surgeries
Others